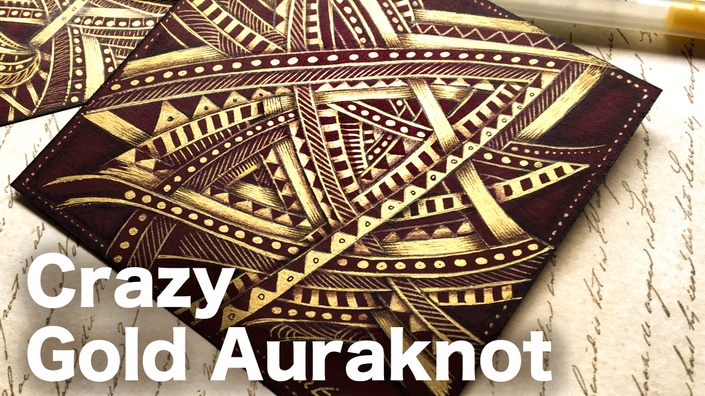 Crazy Gold Auraknot Lesson
Learn how to draw a shimmering "crazy" version of Auraknot using gold pens over dark tiles.
Draw Auraknot like never before
• Create traditional Auraknot
Auraknot is a super complex tangle. Learn two different methods to create this challenging pattern, the traditional way.
• Break the rules
After learning the traditional way, learn how to break the conventional Auraknot composition to create a fun, wacky version which is a lot more forgiving to draw.
• Add gold shimmer
Learn how to draw an embellished golden Auraknot using two different gold pens - Sakura Pentouch is my favorite -- over dark paper.
• Learn to shade over gold
Shading any type of golden media is a tricky technique in itself. Learn how to use colored pencils to create beautiful depth.
• And so many tips and tricks!
Every lesson is packed with tips that can help you with ALL of your projects and make you a better artist.
WHY THIS LESSON IS IMPORTANT!
Conquering challenges
Conquering a challenging technique can be sometimes frustrating! In this lesson, you'll learn how to overcome the fear of drawing Auraknot, a high focus tangle by drawing a much more forgiving and dynamic version of the tangle. You'll also learn how to draw and shade using gold pens, which can be a difficult technique in itself. You'll explore the original Auraknot and then break the rules to create a beautiful composition! Sometimes a "crazy version" can be far more interesting than the original thing!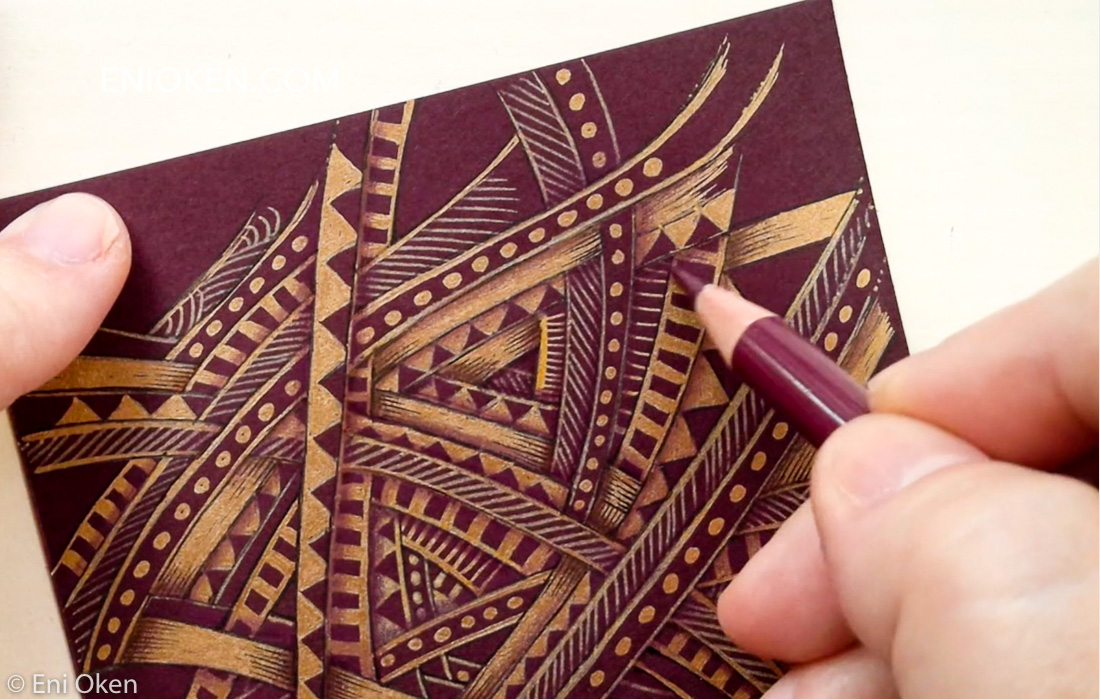 Intermediate/Advanced hour-long video, including an ebook and bonus materials
Includes video captions!
Your Instructor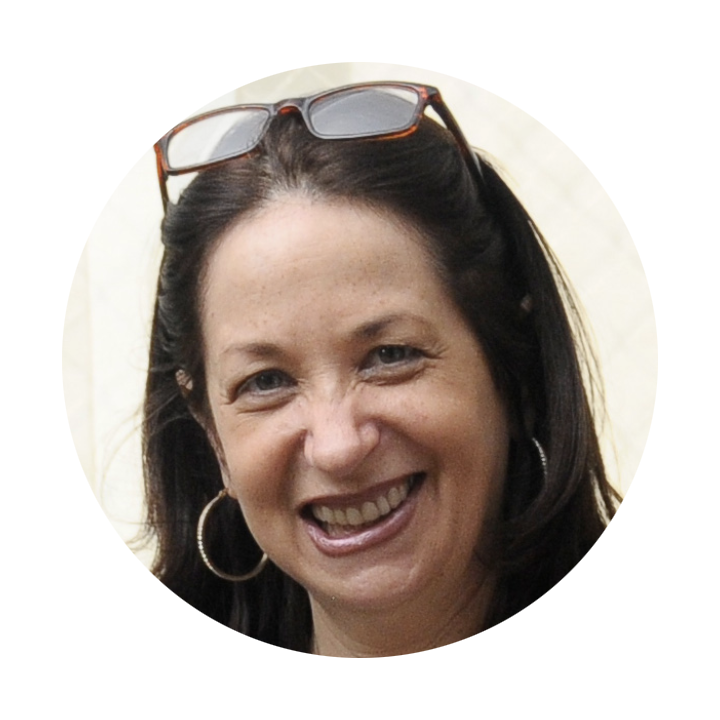 Hi there! I'm Eni Oken, artist since the age of 8, art instructor and teacher for almost 30 years, author of hundreds of articles, tutorials, video lessons and ebooks online and books in print, on various different subjects such as fantasy design, jewelry making and in recent years, the Zentangle method. My true passion is exploring methods and tools on how a person can create something remarkable in art, and teaching it to others so they can grow artistically.

Certified Zentangle Teacher® since 2016
Frequently Asked Questions
What do I get with this lesson bundle?
You get the files and downloadables listed in the Lesson and Files section. These can include downloadable videos, step-outs in PDF format, ebooks or others. Each lesson is a little different, so check carefully!
How long can I access this lesson?
For as long as EniOken.com's lessons are hosted on the teachable platform. Although there is no expiration date, it is strongly recommended that you always download your goodies -- you never know when technology will change. Keep your library backup and safe.
If I enroll in this course, am I a member of Art Club?
Not exactly. This is an individual course, while Art Club is a monthly subscription. To learn more about Eni's Art Club, visit https://www.enioken.com/artclub
Do I get immediate access to the video and downloadables?
Yes! Immediately after purchase, you can access the entire bundle: video, ebook and printable PDFs. Make sure to download everything as soon possible and keep your library safe.
What are you waiting for? Let's do this: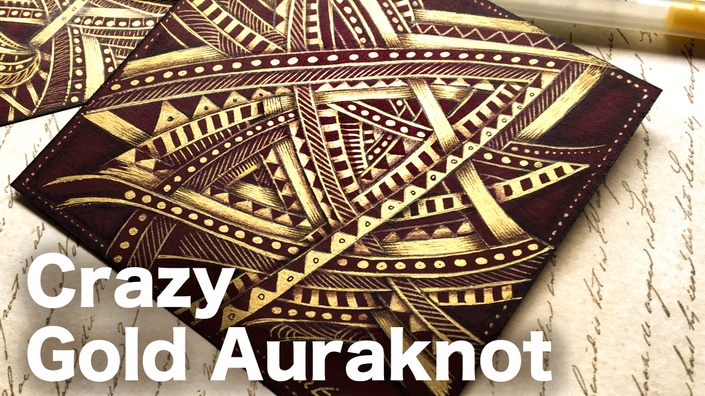 Crazy Gold Auraknot Lesson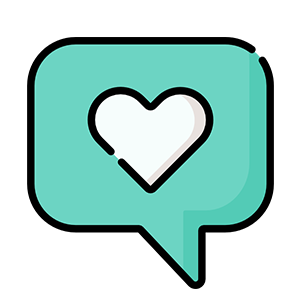 "Eni loved the lesson!! I just love gold!! And great tips on how to shade on gold! Thank you!"
Valli Ganti, via facebook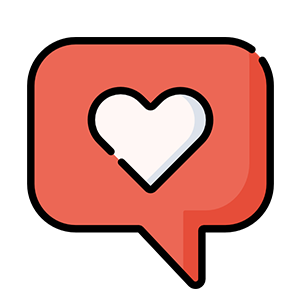 "Oh, my! Yes the glittery gold attracted me. But it was the subtle graphite around the negative spaces that took my breathe away. Thank you for another masterpiece of beauty and deep learning."
Lisa Hoesing, via email