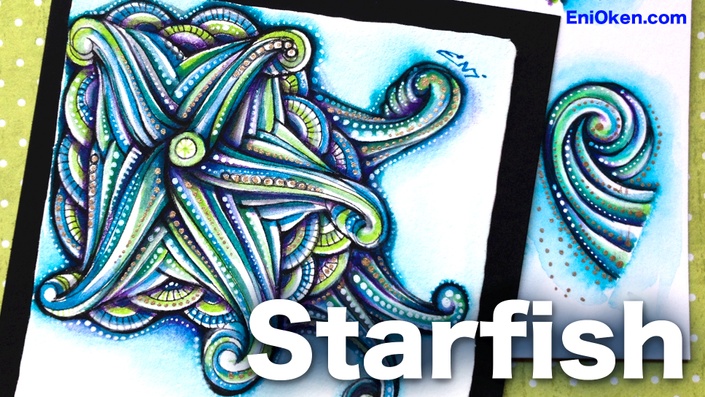 Starfish Lesson
Explore different ways to manipulate the line to produce delicate colored blends with mixed media in this lovely starfish project. An intermediate mixed-media 40-minute long video.

Explore the LINE beyond the traditional stroke
• Manipulate the LINE beyond the Zentangle Method's traditional Stroke and Aura
The Stroke and Aura are essential components of the Zentangle method. In this lesson you'll learn how to really manipulate and go beyond the basics of these two concepts.
• Learn 5 ways to interrupt the LINE
Interrupting the LINE can be a wonderful tool to create gradients, dotted effects and so many different types of embellishments.
• Learn to transform almost any shape into 3D with Echo lines
Echo Lines are cousins to Auras, and can create an interesting sensation of 3D on almost any situation. This lesson shows an introduction to this powerful 3D tool.
• Learn how to create Mooka3D, a tangleation of Mooka
My favorite tangle is Mooka3D, a tangleation of Mooka with applied Echo lines. It can be a tricky but beautiful tangle! In this lesson you'll learn how to draw this gorgeous and dimensional pattern.
• Explore and understand the power of line-weight
Line-weight is that magical ingredient that makes every drawing look more finished and polished. You won't believe your own results!
• Learn how to combine brush markers with colored pencils to create smooth gradients
Use brush markers to create subtle and beautiful color variation and gradients. You can use Copics (alcohol markers) or any other type of brush marker that you have available.
• Work on two different projects, slowly building up your skills
First we'll work on the "Wave" project, to learn how to use the media and create a gorgeously colorful Mooka3D. Next, a complete starfish, using a collection of Mookas.
• And so many tips and tricks!
Every lesson is packed with tips that can help you with ALL of your projects and make you a better artist.
WHY THIS LESSON IS IMPORTANT!
Explore the enormous potential of the LINE
The LINE is the most basic drawing tool, and yet so powerful. Called Stroke in the Zentangle Method, this lesson explores the Line beyond Elemental Strokes and Auras, showing you how to manipulate it to create powerful 3D effects, subtle and lovely color gradations and much more. If you are still using the line simply to draw line-art and outlines, you're not taking advantage of all it has to offer!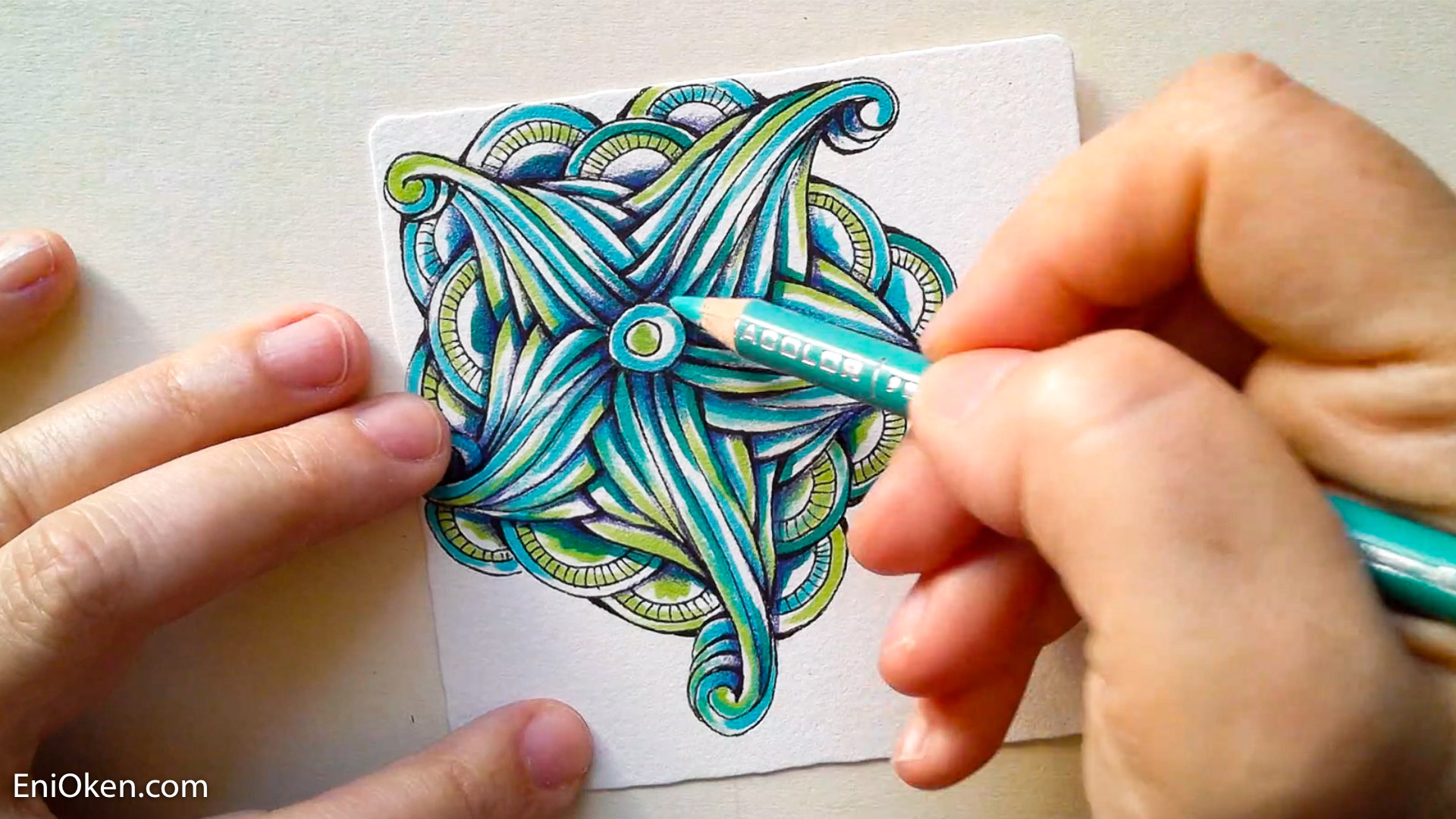 Intermediate 42-minute long video lesson plus bonus PDFs
Includes video captions!
Lesson Files
Starfish Lesson
Available in days
days after you get it
More things you can do
Available in days
days after you get it
Your Instructor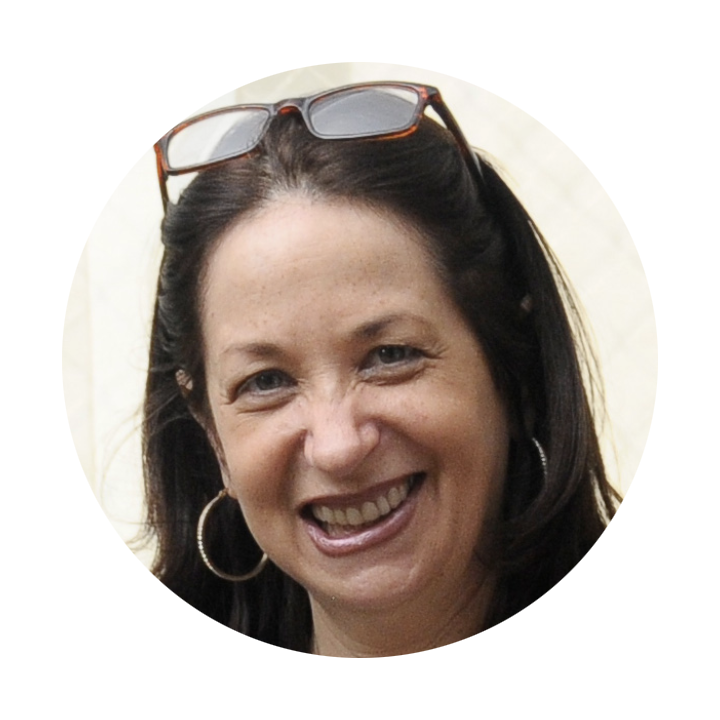 Hi there! I'm Eni Oken, artist since the age of 8, art instructor and teacher for almost 30 years, author of hundreds of articles, tutorials, video lessons and ebooks online and books in print, on various different subjects such as fantasy design, jewelry making and in recent years, the Zentangle method. My true passion is exploring methods and tools on how a person can create something remarkable in art, and teaching it to others so they can grow artistically.

Certified Zentangle Teacher® since 2016
Explore mixed media: ink, colored pencils, markers and gel pens
Frequently Asked Questions
What do I get with this bundle?
You get the files and downloadables listed in the Lesson and Files section. These can include downloadable videos, step-outs in PDF format, ebooks or others. Each lesson is different, so check carefully!
If I enroll here, does it mean that I am part of Art Club?
Not exactly. Art Club is an ONGOING subscription where subscribers enjoy content at a very low, discounted price and participate in live sessions. Clubbers also get ongoing feedback from me in a private Facebook group. By getting this bundle, you can enjoy the same content, at the regular, a-la-carte price.
Do I get immediate access to the video and downloadables?
Yes! Immediately after purchase, you can access the entire bundle: video, ebook and printable PDFs. Make sure to download everything as soon possible and keep your library safe.
For how long can I access this lesson?
For as long as EniOken.com's lessons are hosted on the teachable platform. Although there is no expiration date, it is strongly recommended that you always download your goodies -- you never know when technology will change. Keep your library backup and safe.
Develop this lovely Sarfish drawing, slowly building your skills to create rich color blends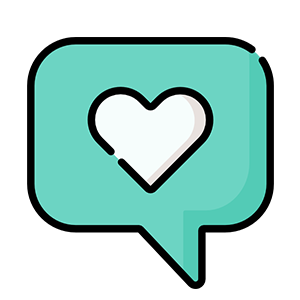 "Eni's Starfish video lesson was fiilled with new skills. "
-Debra Huff via facebook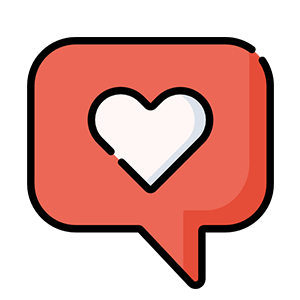 "This was lots of fun - I didn't have all supplies so improvised. A great learning experience as I overdid the white coloured pencil, but then successfully added coloured pencil back on top.

I have finished my second Starfish tile - thank you so much Eni, I am having so much fun AND my level is improving! "

-Michelle Dugdale via facebook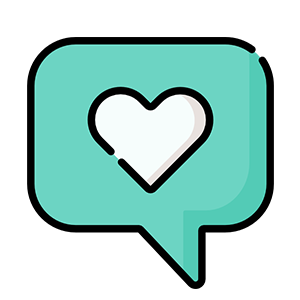 I want to say THANK YOU Eni Oken!! I never dreamed I could even come close to producing a drawing like this!!
-Jenny Sheehan via facebook
What are you waiting for? Let's do this: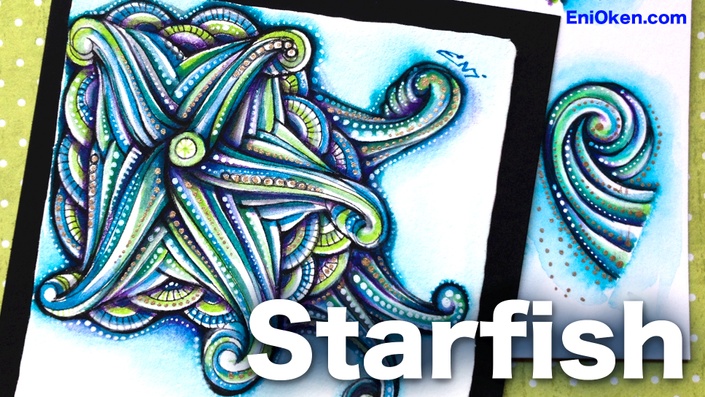 Starfish Lesson