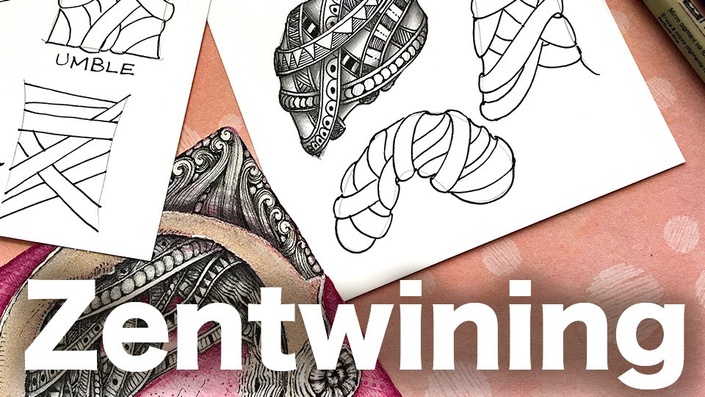 Zentwining Lesson
Learn how I adapted this very cool tangle enhancer originally by Lynn Mead to create flowing, wrapping ribbons to complement your Zentangle art!
Embellish your Zentangle with gorgeous, laced ribbons
• Understand Zentwining tangle enhancer
Rather than a tangle pattern, "Zentwining" (a concept introduced by Lynn Mead, used with permission) is a way to create flowing, interlaced ribbons that can enhance and embellish your Zentangle work.
• Learn my version of Zentwining
Every since I discovered Lynn's Zentwining, I've been madly in love with this tangle enhancer and used it to give that extra sauce of embellishment onto my pictures. I'll show you exactly how it can be used to create gorgeous, textured ribbons.
• Learn to draw interlaced ribbons that look 3-dimensional
I'll show you every detail of how to create ribbons that look like they are wrapped around a string segment. Although this is similar to Hollibaugh, it's not the same, and we'll cover all the tiny details that make this tangle enhancer look 3-dimensional.
• Learn how to embellish Zentwining ribbons with fragments
Learn to add textures and fragments to Zentwining ribbons using "foreshortening", a perspective tool that helps drawings to look more 3-dimensional. You'll create ribbons that are so luscious and beautiful you won't believe your eyes!
• Learn to shade Zentwining ribbons
Every little detail of this tangle enhancer is explored, including shading. Learn exactly how to add shading so that your ribbons seems to pop right off the page.
• And so many tips and tricks!
Every lesson is packed with tips that can help you with ALL of your projects and make you a better artist.

WHY THIS LESSON IS IMPORTANT!
The enhancement is in the details
The fashion industry already knows it: the quality of a piece of clothing is all about the details, how it is finished and trimmed. Zentwining -- in my version -- gives you a valuable tool to finish off your tangles with beautiful trims and flowing interlaced ribbons. It's not simply a matter of adding a decorative border, you'll learn how to create ribbons that actually look 3-dimensional. No secrets are kept, from the use of the right stroke to the careful placement of the ribbons, every detail is revealed so that you can create gorgeous trims and embellished ribbons, with abundant case studies to inspire you.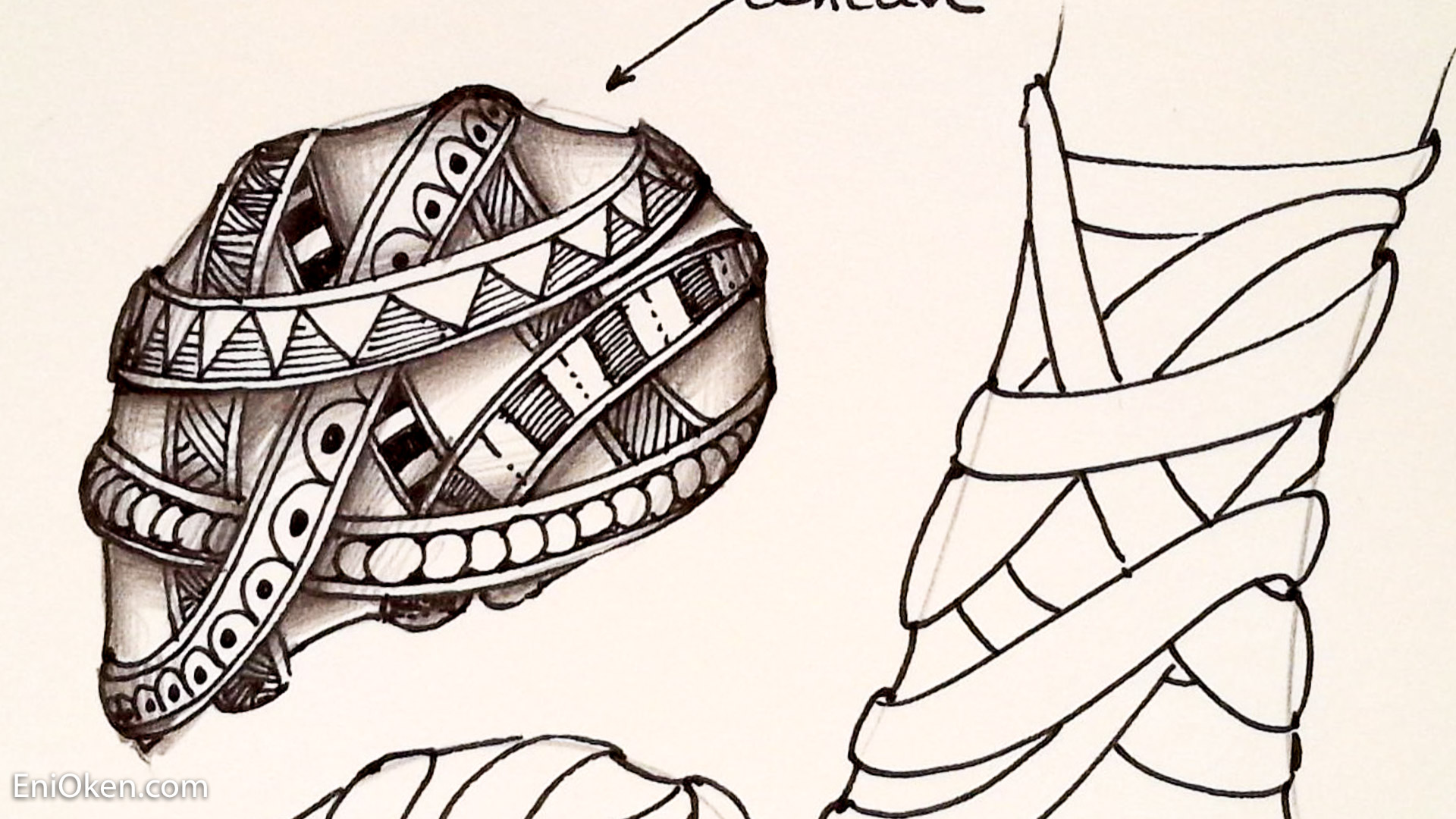 Easy/intermediate level. Get 2 videos, totalling 1:30 hours, the ebook and bonus PDFs
Includes video captions!
Lesson Files
More things to do
Available in days
days after you get it
Your Instructor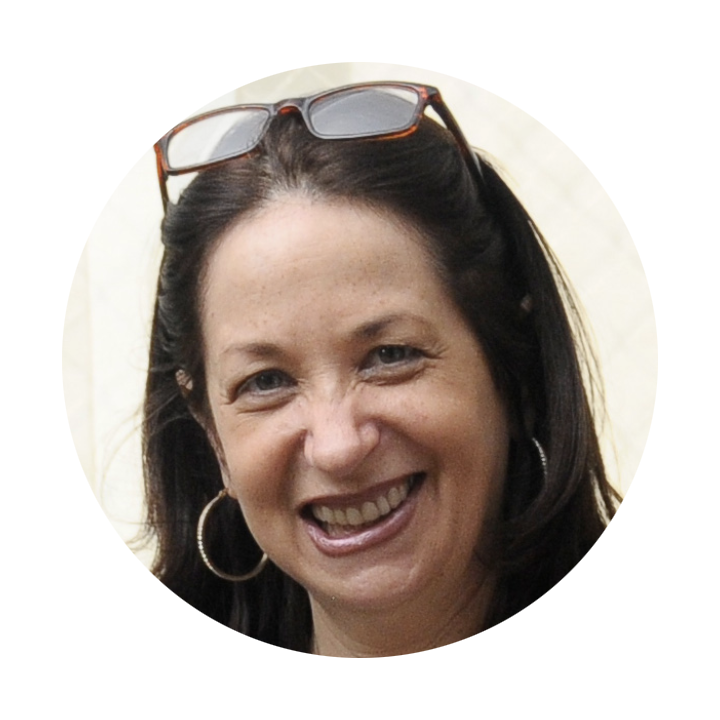 Hi there! I'm Eni Oken, artist since the age of 8, art instructor and teacher for almost 30 years, author of hundreds of articles, tutorials, video lessons and ebooks online and books in print, on various different subjects such as fantasy design, jewelry making and in recent years, the Zentangle method. My true passion is exploring methods and tools on how a person can create something remarkable in art, and teaching it to others so they can grow artistically.

Certified Zentangle Teacher® since 2016
Case Studies in the video for you to be inspired on how to use Zentwining in your own work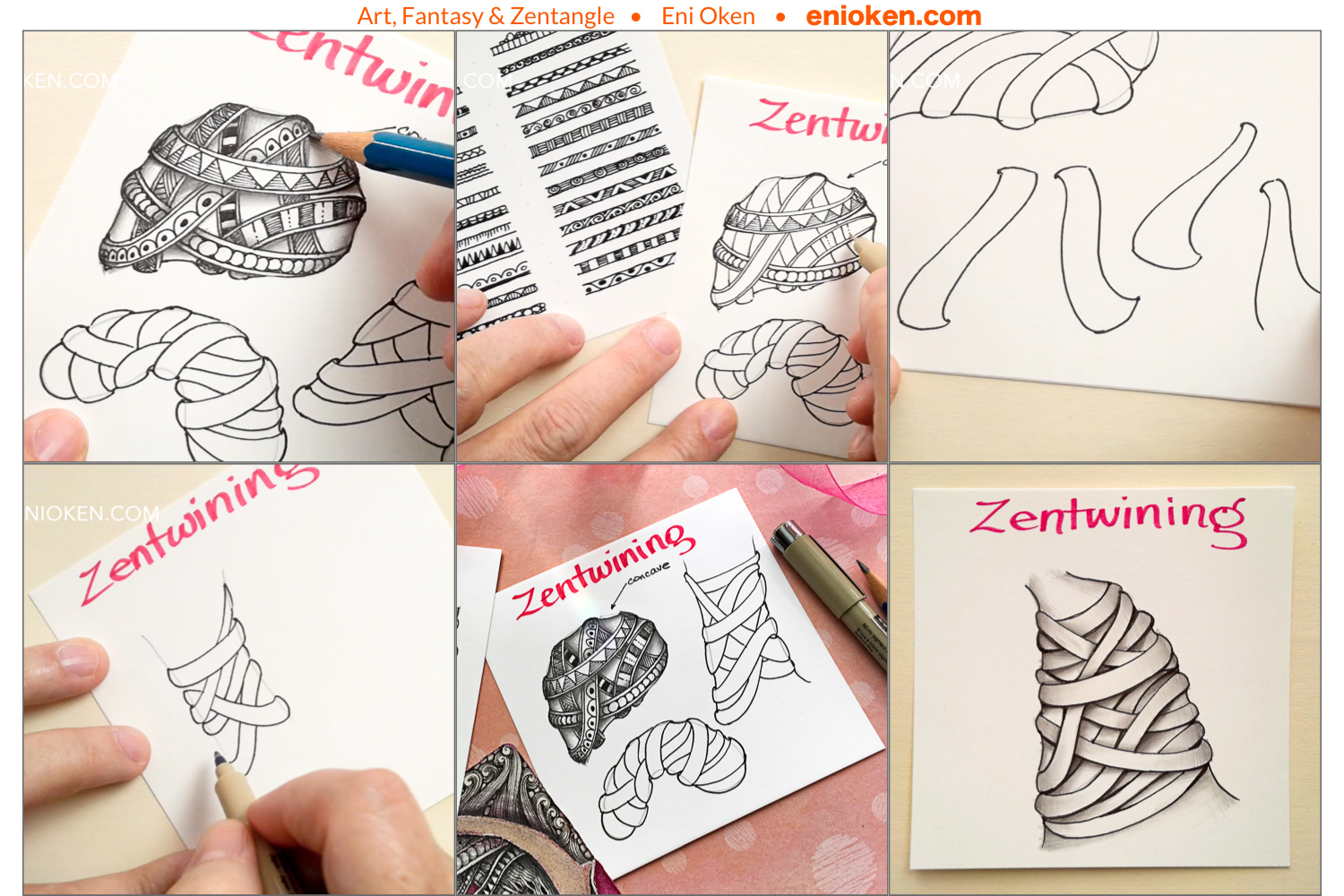 Frequently Asked Questions
What do I get with this bundle?
You get the files and downloadables listed in the Lesson and Files section. These can include downloadable videos, step-outs in PDF format, ebooks or others. Each lesson is different, so check carefully!
If I enroll here, does it mean that I am part of Art Club?
Not exactly. Art Club is an ONGOING subscription where subscribers enjoy content at a very low, discounted price and participate in live sessions. Clubbers also get ongoing feedback from me in a private Facebook group. By getting this bundle, you can enjoy the same content, at the regular, a-la-carte price.
Do I get immediate access to the video and downloadables?
Yes! Immediately after purchase, you can access the entire bundle: video, ebook and printable PDFs. Make sure to download everything as soon possible and keep your library safe.
For how long can I access this lesson?
For as long as EniOken.com's lessons are hosted on the teachable platform. Although there is no expiration date, it is strongly recommended that you always download your goodies -- you never know when technology will change. Keep your library backup and safe.
Embellish your Zentangle art with gorgeous, woven ribbons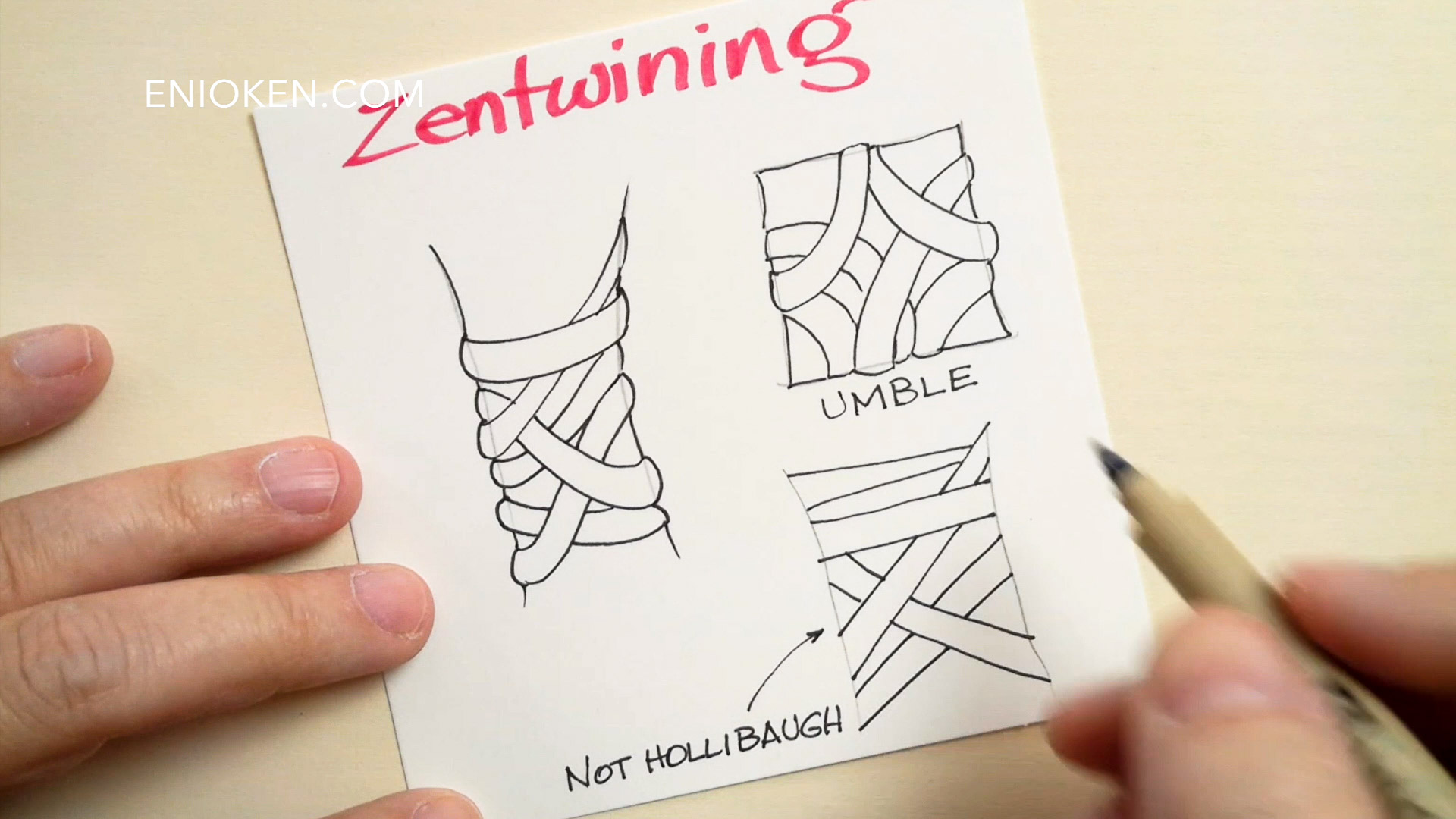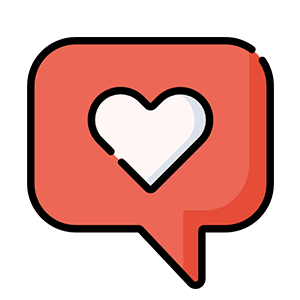 "Thanks for doing a live evaluation of some tiles. I appreciated how very kind you were throughout. My favorite technique was the curved shading under the dimensional tubes. Brilliant! I counted four areas to consider when shading, the edge darkness, the right of center smudged shadow, the central light and the reflected tiny bottom light. Whew! So much to think about."

-Lisa Hoesing via email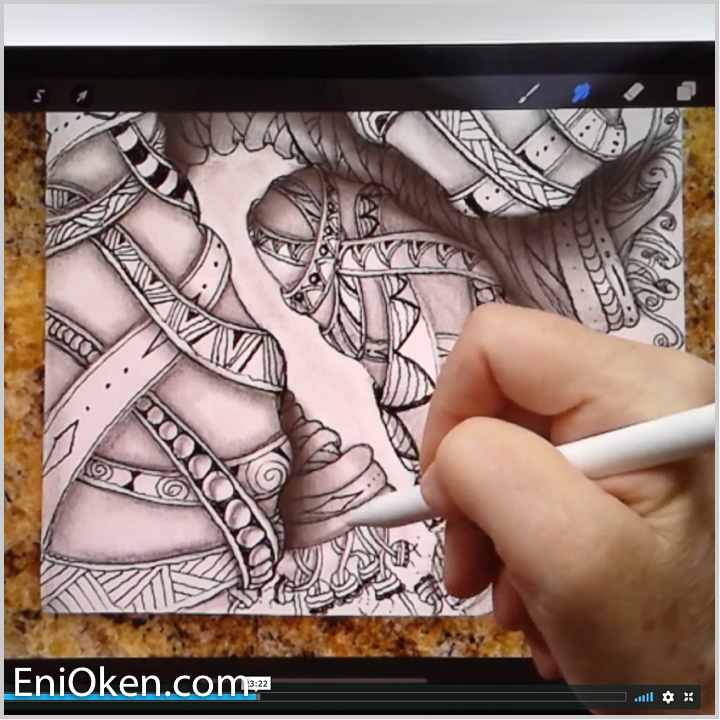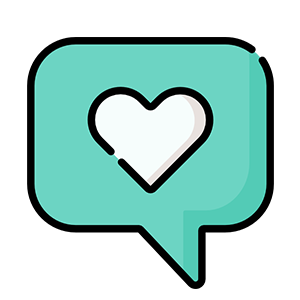 "Just joined the Art Club and watched my first video - Zentwining. Your instructions and samples are great. I heard lots of hints about subtle pen strokes that make a world of difference. Also, your descriptions about the where and whys of shading really clicked for me."
-Bette Abdu via email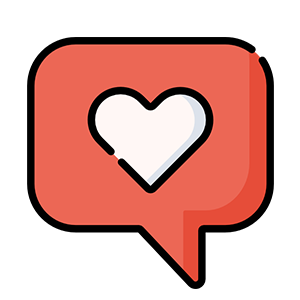 "Just the perfect lesson to take time out from packing the house for travel. Lots of Zen flow and not too much thinking involved. Thank you Eni, great lesson with lots of potential."
-Denise Williams via facebook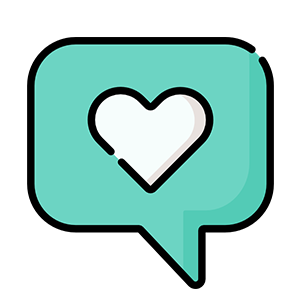 "The Zentwining lesson is sooooo cool. I love your take on Lynn's concept, Eni."
Nancy Dawes via facebook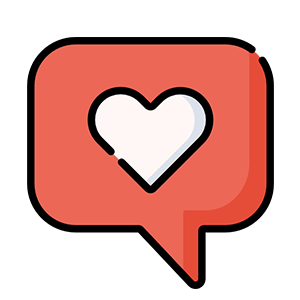 "Loved the class! Very detailed and wonderfully taught. Thank you!"
-Janice Romero via email
What are you waiting for? Let's do this: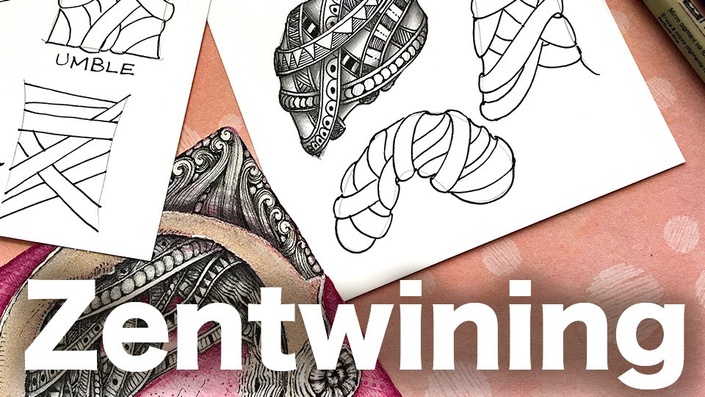 Zentwining Lesson