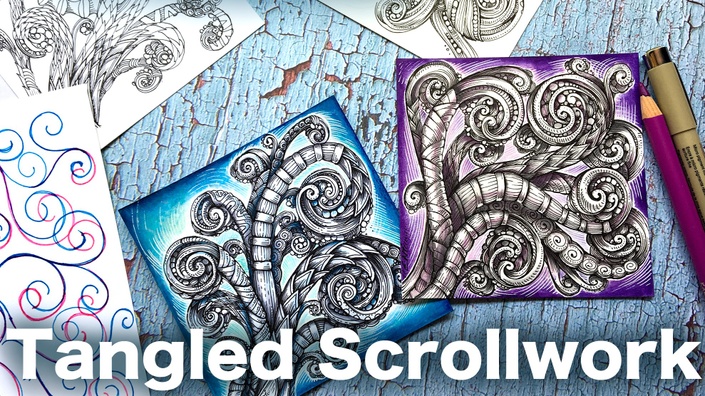 Tangled Scrollwork Lesson
Learn how to create incredibly intricate tangled swirls using my unique method which builds on millenia-old scrollwork techniques. We start from the very basics of scrollwork, all the way to creating beautiful swirling designs with hatched shading, in a super ADVANCED video lesson.
Understand the basics of spirals and how to create beautiful flowing design
• Understand the basics of how to create spirals and scrolls
The backbone of scrollwork is understanding how to create beautiful spirals which flow naturally into each other. You'll get tons of practice creating vines and spirals.
• Understand the logaritmic spiral, also known as the "marvelous spiral"
Not all spirals are equal. You'll learn how the ancients uncovered the proportions of the most beautiful spirals found in nature, also known as the logarithmic or "marvelous" spiral, and how to construct it proportionally.
• Learn how to create scroll design backbones and skeletons
The underlying structure of a scroll is called "backbone". You'll learn how to produce various different backbones -- skeletons -- so that your vines and scrolls flow naturally into the space of the paper.
• Avoid pitfalls and mistakes so that your scrollwork flows beautifully
Scrolls are not all the same. Learn the mistakes you should avoid so that your work looks beautifully professional and flowing.
• Adapt Scroll design to tangling through my unique method
You'll learn how to use your favorite tangle patterns to create a modified tangled scrollwork, using a unique method that I developed to combine two of my favorite topics, Zentangle and scrollwork.
• Create an incredible project from beginning to end, including shading, background and enhancements
You'll complete a full project, from beginning to end, using overlap, hatching, shading and background painting. The results are magnificent and you won't believe your eyes when you're done!
• And so many tips and tricks!
Every lesson is packed with tips that can help you with ALL of your projects and make you a better artist.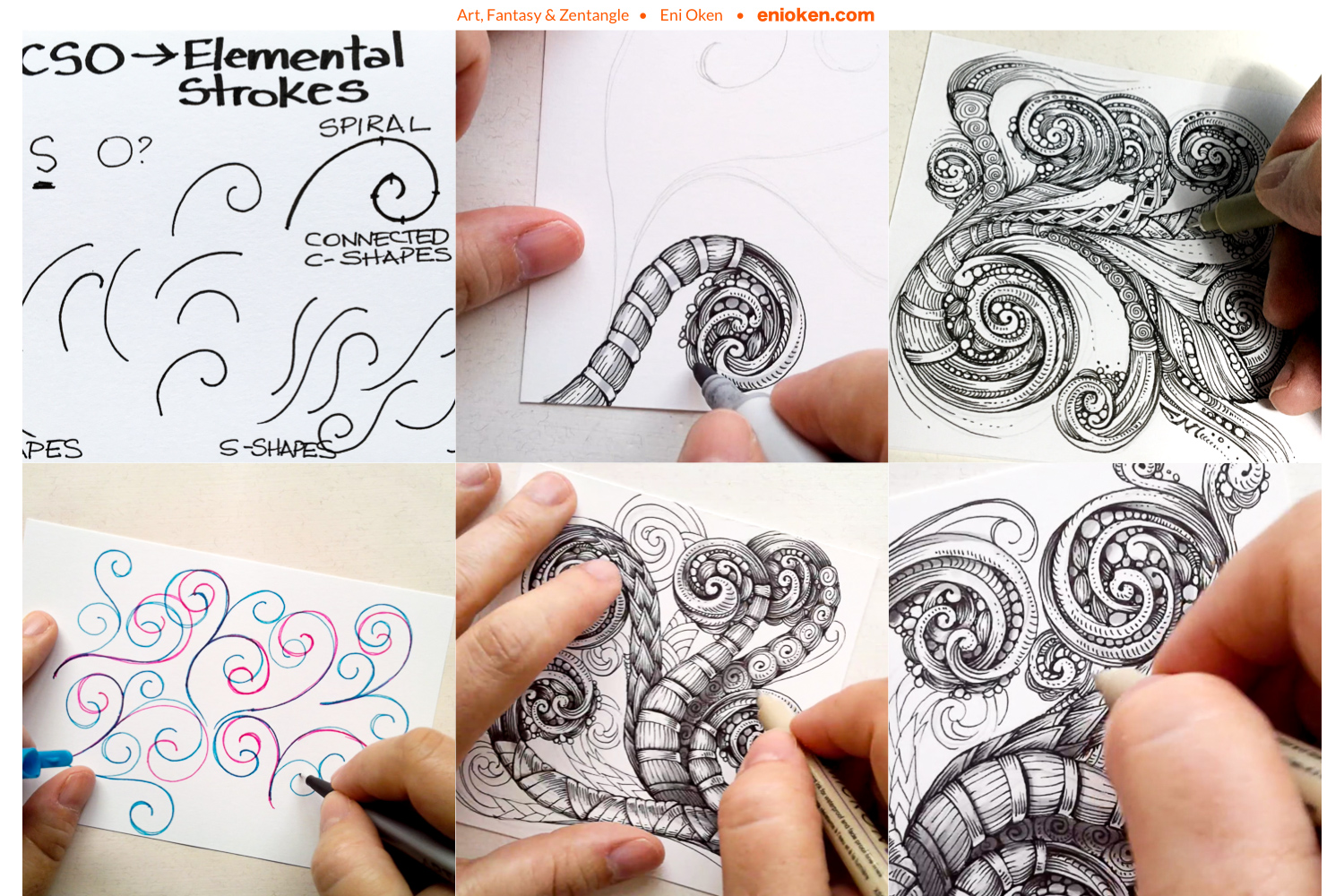 Create unbelievable detail through line shading and hatching, to produce an "engraved" look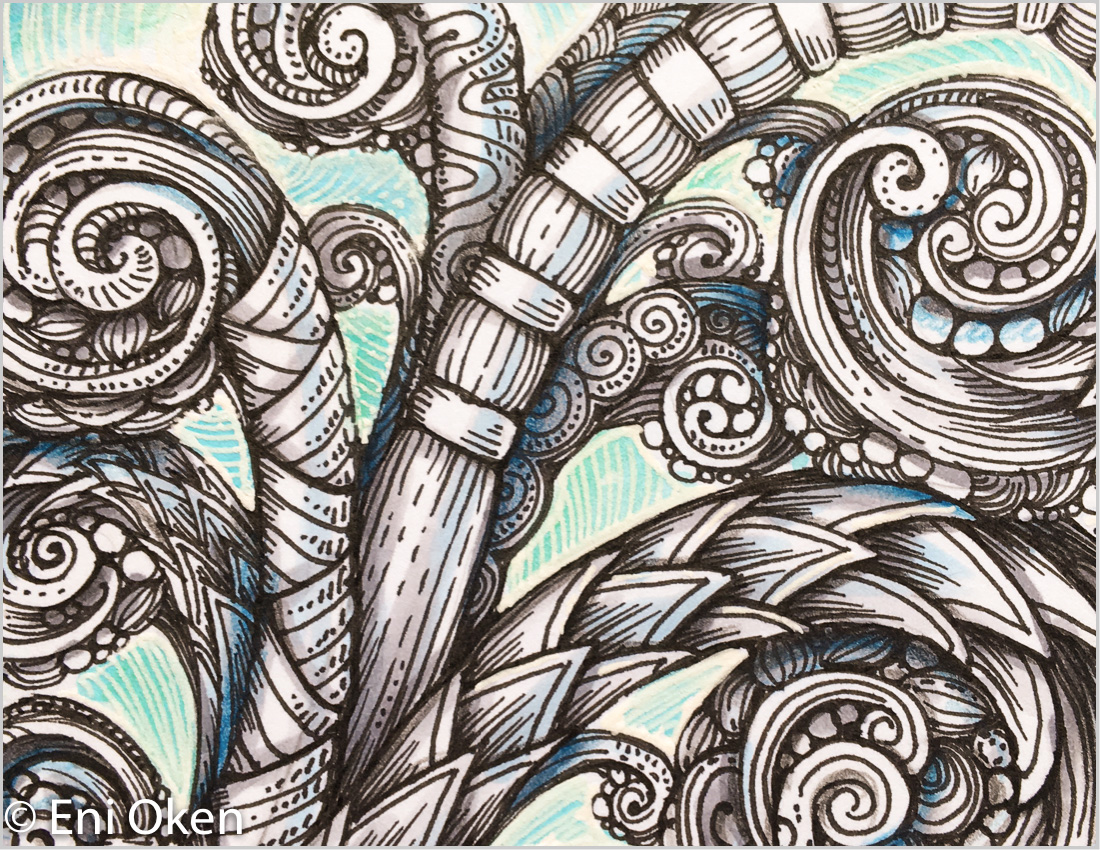 WHY THIS LESSON IS IMPORTANT!
Combining Ancient and New
In this advanced lesson I will show you how to create flowing scrolls and curls, starting from the very beginning: understanding how to create a beautiful spiral, how to create scroll backbones and skeletons and finally to creating a sensational project from beginning to end, including shading.
According to Wikipedia, "Scrollwork is a term for some forms of decoration dominated by spiraling scrolls, today used in popular language for two-dimensional decorative flourishes and arabesques of all kinds, especially those with circular or spiraling shapes.
Scroll decoration has been used for the decoration of a vast range of objects, in all Eurasian cultures, and most beyond. A lengthy evolution over the last two millennia has taken forms of plant-based scroll decoration from Greco-Roman architecture to Chinese pottery, and then back across Eurasia to Europe. They are very widespread in architectural decoration, woodcarving, painted ceramics, mosaic and illuminated manuscripts."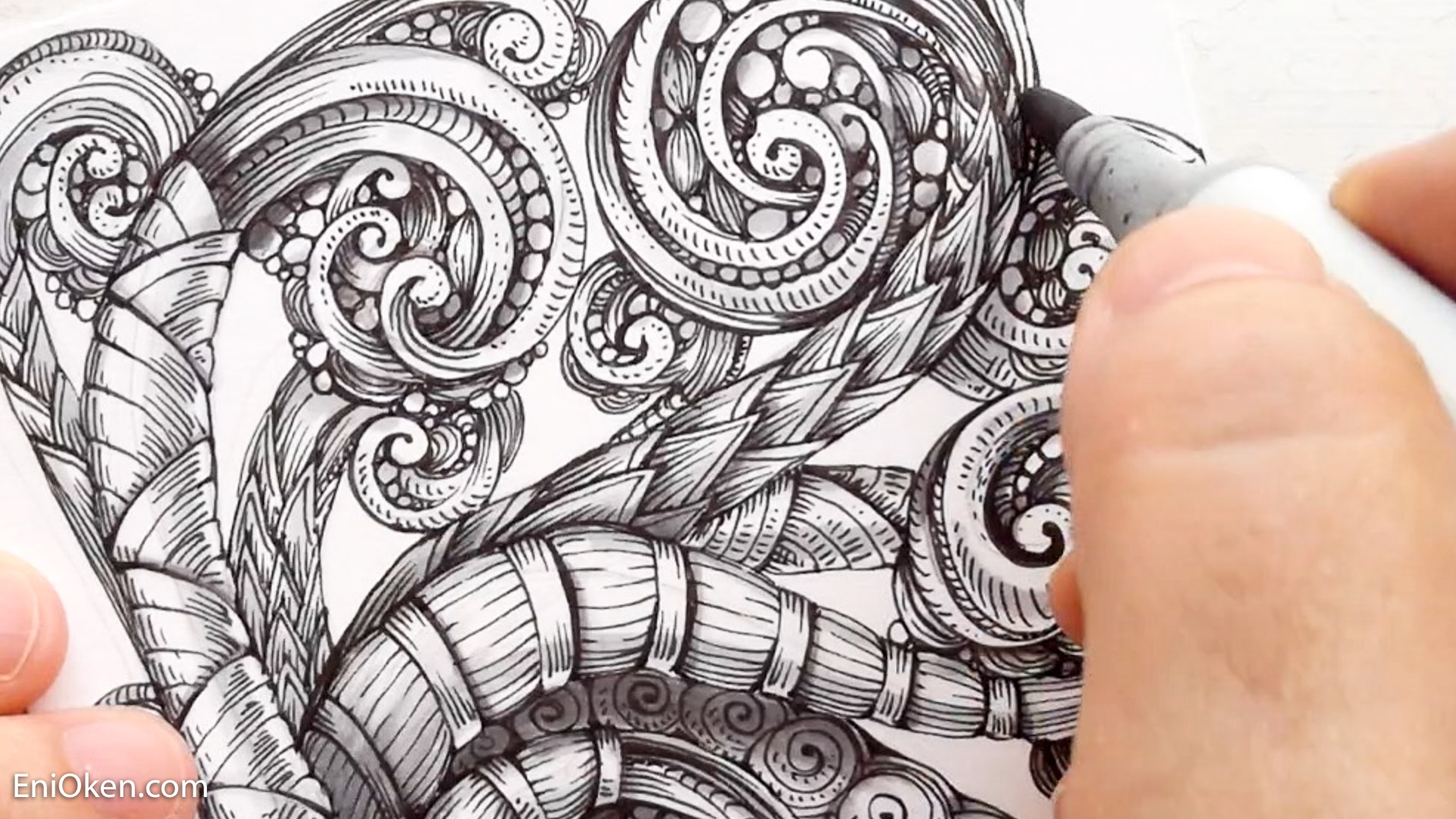 Advanced 1-hour 9-minute long video lesson, including bonus PDFs
Includes video captions!
Your Instructor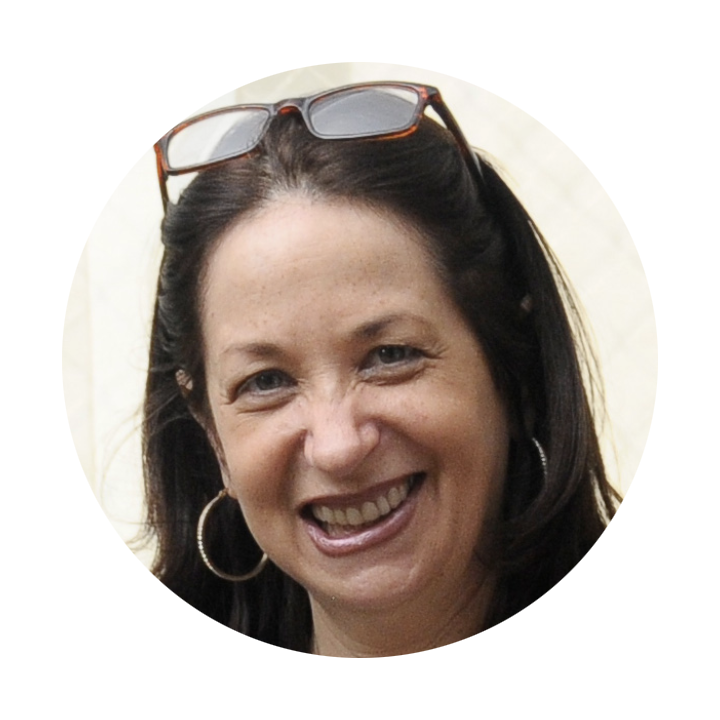 Hi there! I'm Eni Oken, artist since the age of 8, art instructor and teacher for almost 30 years, author of hundreds of articles, tutorials, video lessons and ebooks online and books in print, on various different subjects such as fantasy design, jewelry making and in recent years, the Zentangle method. My true passion is exploring methods and tools on how a person can create something remarkable in art, and teaching it to others so they can grow artistically.

Certified Zentangle Teacher® since 2016
Create magnificent, flowing Scrollwork combined with your favorite tangle patterns
Frequently Asked Questions
What do I get with this bundle?
You get the files and downloadables listed in the Lesson and Files section. These can include downloadable videos, step-outs in PDF format, ebooks or others. Each lesson is different, so check carefully!
If I enroll here, does it mean that I am part of Art Club?
Not exactly. Art Club is an ONGOING subscription where subscribers enjoy content at a very low, discounted price and participate in live sessions. Clubbers also get ongoing feedback from me in a private Facebook group. By getting this bundle, you can enjoy the same content, at the regular, a-la-carte price.
Do I get immediate access to the video and downloadables?
Yes! Immediately after purchase, you can access the entire bundle: video, ebook and printable PDFs. Make sure to download everything as soon possible and keep your library safe.
For how long can I access this lesson?
For as long as EniOken.com's lessons are hosted on the teachable platform. Although there is no expiration date, it is strongly recommended that you always download your goodies -- you never know when technology will change. Keep your library backup and safe.
Learn my unique method of combining this ancient form of decorative art with Zentangle® to create a stunning piece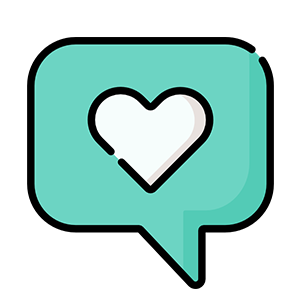 Another fantastic lesson, Eni! Thanks a lot!
Sigi Deggelmann via Facebook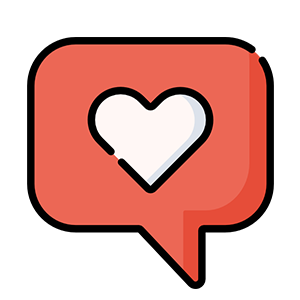 "There are soooooo many great tips packed into this lesson! Thank you Eni!"

Nancy Dawes, via Facebook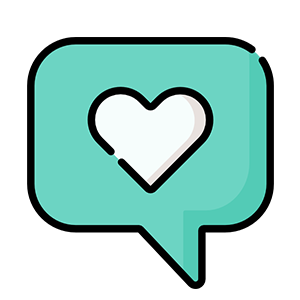 Fun project -- super challenging & I learned so much, thank you Eni!

Kelley Ann Kelley, via Facebook
What are you waiting for? Let's do this: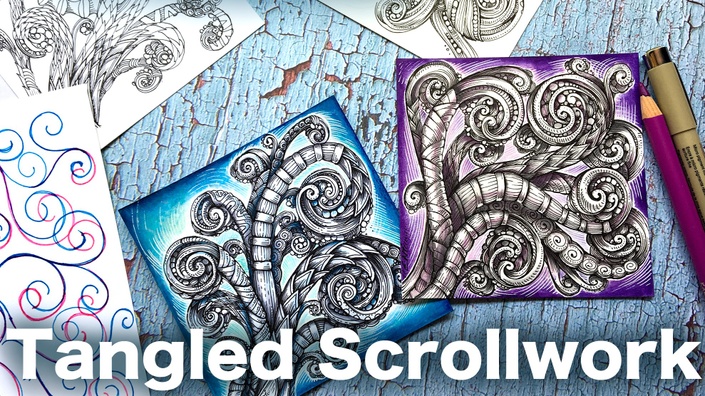 Tangled Scrollwork Lesson