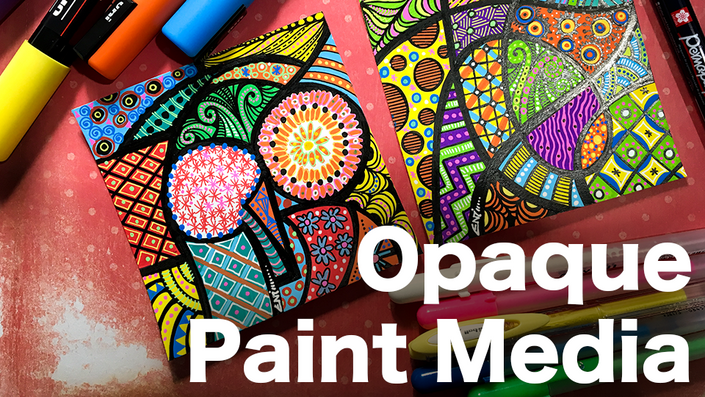 Opaque Paint Media Lesson Bundle
Explore the trendy Posca Markers and Gel pens to create a vibrant Zentangle-inspired tile.
Explore opaque media such as paint markers and gel pens
• Learn to explore new media in a way that promotes creativity
We are all fascinated by art supplies. But do you really make the most of your new supplies, or do they stand still in your closet gathering dust? Learn a solid method to discover more about your new supplies.
• Six steps to test new media
Often we are daunted by new supplies, and don't know where to start. This lesson will guide you gently through 6 steps on how to explore and make the most of your new art supplies.
• How to shop and not go broke
Learn how select and budget when you buy new art supplies. You should use these guidelines even when you buy art supplies online!
• How to test your new supplies
Mastering new supplies requires adapting to new techniques. Learn an easy and gradual method of getting to know your materials.

• How to use Posca Markers and Gel pens to tangle
Use opaque markers and gel pens to create super fun Zentangle-adapted pictures, respecting the capabilities and potential of the media.
• Four different ways to approach tangles using opaque media
Learn four well established methods of adding tangles to your drawings, by carefully placing layer upon layer of opaque media.
• Learn to extract pearls of wisdom from your experiments
Testing new media is much like conducting your own little private lab experiment. Extract pearls of wisdom to apply in the future!
• A project from beginning to end, and so many tips and tricks!
Develop a full project, Zentangle-inspired, from beginning to end. Every lesson is packed with tips that can help you with ALL of your projects and make you a better artist.
WHY THIS LESSON IS IMPORTANT!
Deep knowledge of your media promotes mastery
In order to become a great artist, you must have a deep connection with your tools. They must feel almost like an extension of your arm and hand. Instead of relying only on practiced trial and error, this lesson demonstrates a gradual and gentle process which can help you to create a deeper and greater understanding of your art supplies. Only then you have a good chance of achieving mastery in your art and technique. This lesson is about establishing personal challenges and conducing methodic and beautiful experiments that will ease the discomfort of using new and often misunderstood new supplies.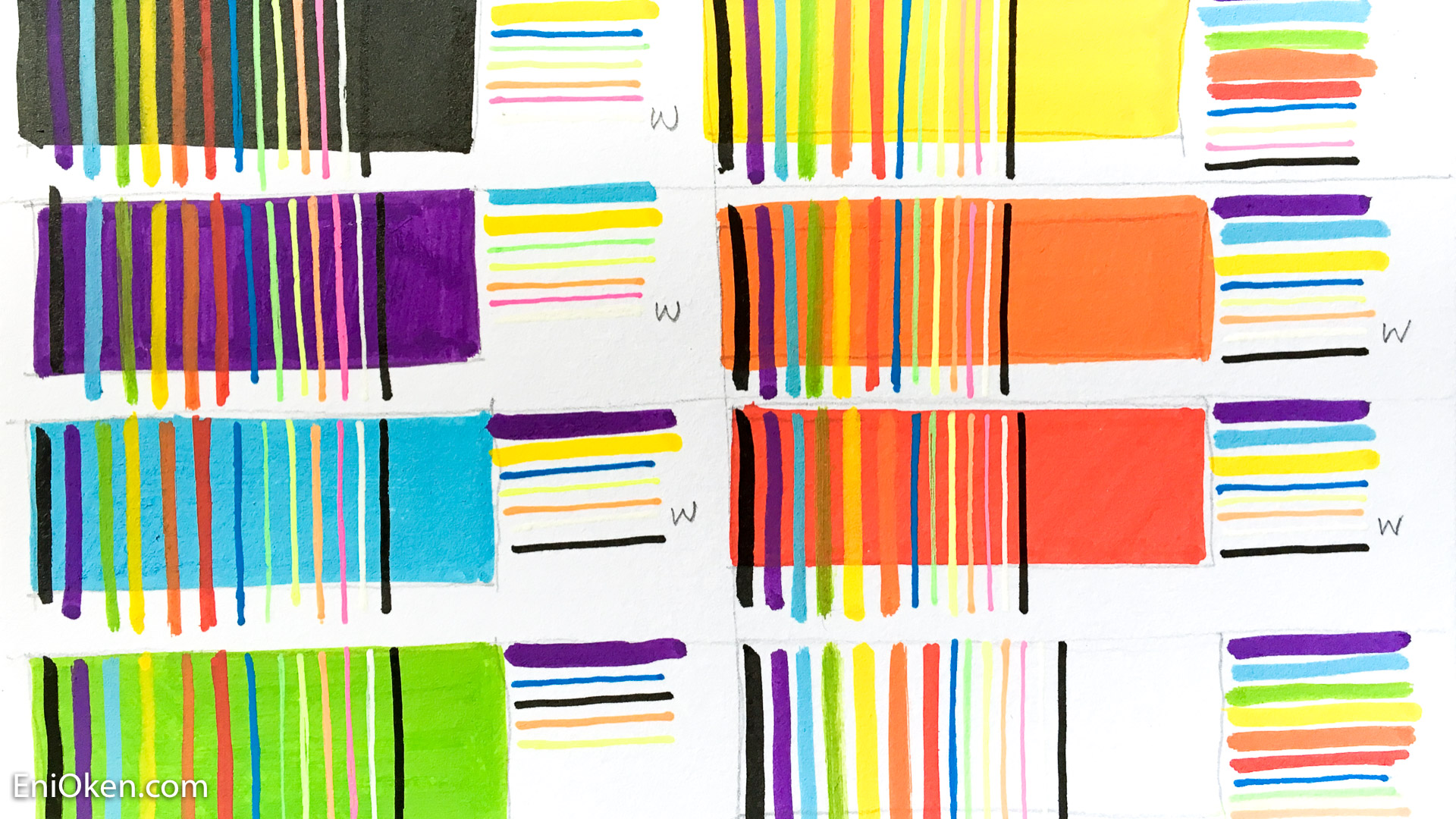 Intermediate/Advanced hour-15 minute long video, bonus PDFs and 39-page "video to ebook" included in the bundle!
Your Instructor

Hi there! I'm Eni Oken, artist since the age of 8, art instructor and teacher for almost 30 years, author of hundreds of articles, tutorials, video lessons and ebooks online and books in print, on various different subjects such as fantasy design, jewelry making and in recent years, the Zentangle method. My true passion is exploring methods and tools on how a person can create something remarkable in art, and teaching it to others.

CZT® since April 2016
Frequently Asked Questions
What do I get with this lesson?
You get the files and downloadables listed in the Lesson and Files section. These can include downloadable videos, step-outs in PDF format, ebooks or others. Each lesson is different, so check carefully!
If I enroll here, does it mean that I am part of Art Club?
Not exactly. Art Club is an ONGOING subscription where subscribers enjoy content at a very low, discounted price and participate in live sessions. Clubbers also get ongoing feedback from me in a private Facebook group. By getting this bundle, you can enjoy the same content, at the regular, a-la-carte price.
How can I become an Art Club subscriber?
Visit https://www.enioken.com/artclub to learn more about Art Club!
What are you waiting for? Let's do this: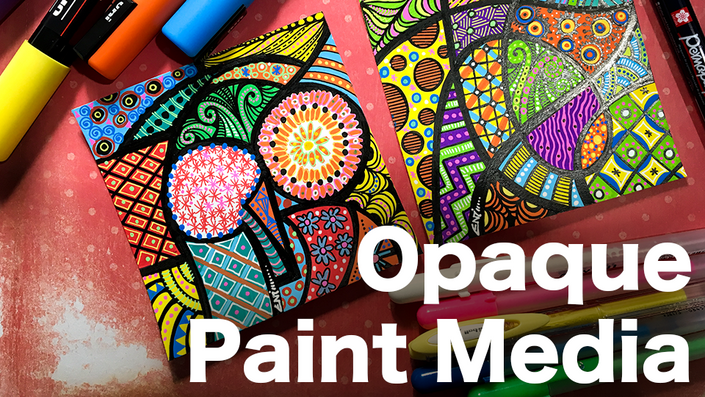 Opaque Paint Media Lesson Bundle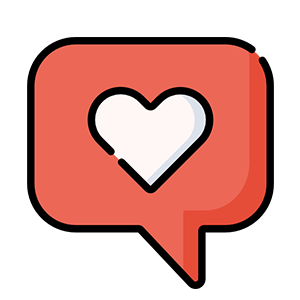 "Just wanted to say WOW! I learned so much. Perhaps the best lesson was to not worry . . . everything can be fixed. I would have given up before I started almost without that constant encouragement and example. I followed you, step by step in recreating the same thing you were demonstrating. All went well until the Arukas when I dragged the still-wet blue gelly roll ink into my yellow with my hand while working on another area. Even that could be fixed. Thank you for another great class!"
-Lee Ann Kreig, via email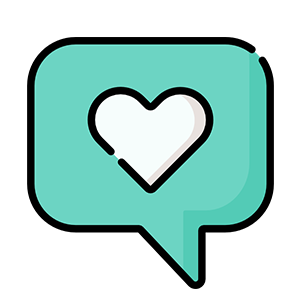 "What a great lesson! I enjoyed this even more than the live one at Tangle U. The bright colors certainly take Zentangle to a whole new level. Not having been trained in art, your lessons provide me with much needed theory to complement the practice and adding artistic flair to my tangling. Thank you for all the handouts that go along with this lesson, too. Best wishes,"
DrEllieCZT, via email